WHAT YOU MAY HAVE MISSED: NEW R&B MUSIC and News | ThisisRnB.com – New R&B Music, Artists, Playlists, Lyrics
4 min read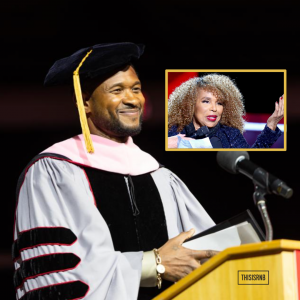 R&B lovers have been graced with so much new music the past few weeks, and beyond. Here are some R&B releases and music news you may have missed.
Legends Roberta Flack and Usher receive honorary doctorates from Berklee College of Music
Roberta Flack is one of the most celebrated singer-songwriters of our time, known for her timeless vocals and legendary songwriting abilities, and Grammy award-winning R&B artist Usher received an honorary doctor of music from Berklee College of Music. The ceremony was held in Boston, Mass. at the Agganis Arena, Saturday, May 13.
Flack is one of the greatest songstresses and is unmatched in her ability to tell a story through her music. She was honored for enriching the lives of others through her humanitarian outreach with the nonprofit Feed the Children and the Roberta Flack School of Music in the Bronx, and her role as author of The Green Piano: How Little Me Found Music, her debut children's book with Tonya Bolden.
Usher has been a staple in the R&B scene since the late 1990s and was recognized for his tremendous artistry and profound influence on R&B music, and his role as a devout humanitarian. Usher has raised tens of millions of dollars for various causes and uplifting youth via his New Look Foundation, which has provided opportunities for young people in underserved communities since 1999.
Usher's "My Way" Las Vegas residency is currently underway. His latest single, "GLU," which was released in March, has been climbing Billboard's Adult R&B Airplay chart.
Lil Durk releases a new single and video "All My Life" featuring J. Cole
Hip-hop and multi-platinum artist Lil Druk has released a new single and music video, "All My Life," featuring J.Cole. The single will be on his upcoming album, "Almost Healed," which is scheduled to release May 26. The track is easy listening and could be categorized as inspirational and talks about overcoming adversity. The hook is a youth choir along with Durk singing,
"All my life, they've been trying to keep me down/ All this time/they never thought I'd make it out."
Durk and Cole talk about rappers being killed at a young age as well. This song is inspiring and talks about Durk overcoming adversity, statistics, and encouraging others to do the same. The music video was released Friday, May 12, and already has over 7 million views on YouTube. Durk and Cole appear in the video with the youth singing the hook.
Look at the music video for "All My Life" below:

Ciara and Derrick Milano collab for "Da Girls (Slow R&B Mix)
Despite the backlash Ciara has received for her single, "Da Girls," she continues to move forward with the promotion and different versions of her single, "Da Girls" which is all about women who are being independent and doing it all on their own without a man. Grammy-winning singer/songwriter Derrick Milano collaborated with Ciara for an 'R&B slow mix' remix of "Da Girls." The song starts off with an upbeat 2000s R&B vibe, so it'll take you back. Milano adds his lyrics and vibe to the track as well. Towards the middle of the song, the track begins to break down with a chopped and screwed sound. The single was originally released in February, with a girl's mix of the single, released last month with rappers Lady London and Lola Brooke.
Listen to "Da Girls (R&B Slow Mix) below:

R&B duo The Amours releases new single "Before I Met You"
R&B duo The Amours, Jakiya Ayanna and Shaina Aisha, recently released their new single "Before I Met You," a smooth, R&B track about embarking on a new journey of love. The single also addresses letting go and going all in on the relationship. The Amours posted on their Facebook page, about the single saying "It feels like home." The Amours released "Don't Deserve" in January. Both singles will be featured on The Amours upcoming EP, which is expected to be released later this year. Also former background singers for R&B/Soul artist PJ Mortion, the duo released their debut EP, "Mon Amour" in 2019.
Listen to "Before I Met You" below:

NBDY returns with a brand new single "Feels" with an accompanying visualizer.
The self-described "indie-preneur" NBDY returns with a whole mood in his latest single "Feels" which explores the angst of trying to trust in a relationship.
The single is an R&B-tinged track that journeys into the uncertainties of romance and is a pure expression of raw emotions. "FEELS" demonstrates the similarities between anxiety and love in the truest sense of the word as he sings "…why am I so full of fear/running from things that ain't near me…"  Through his flawless vibey execution, NBDY brings passionate emotion into every lyric and note.
NBDY shares the inspiration behind the rack saying, "he's still healing but through the smoke and mirrors." He was learning how to cope with success after losing someone he loved. In that experience, the pain made him "reclusive" and it became "delusional" to assume that anyone would tolerate the lies, the other women that came with the lifestyle. But just as life started to spiral out of control, NBDY soon realized that what's real is "the way that you make me feel."
Take a listen to "Feels" below.