Shenseea Finds Americans Still Stuck On Classic Dancehall, So She's Been Mixing The Old With The New
4 min read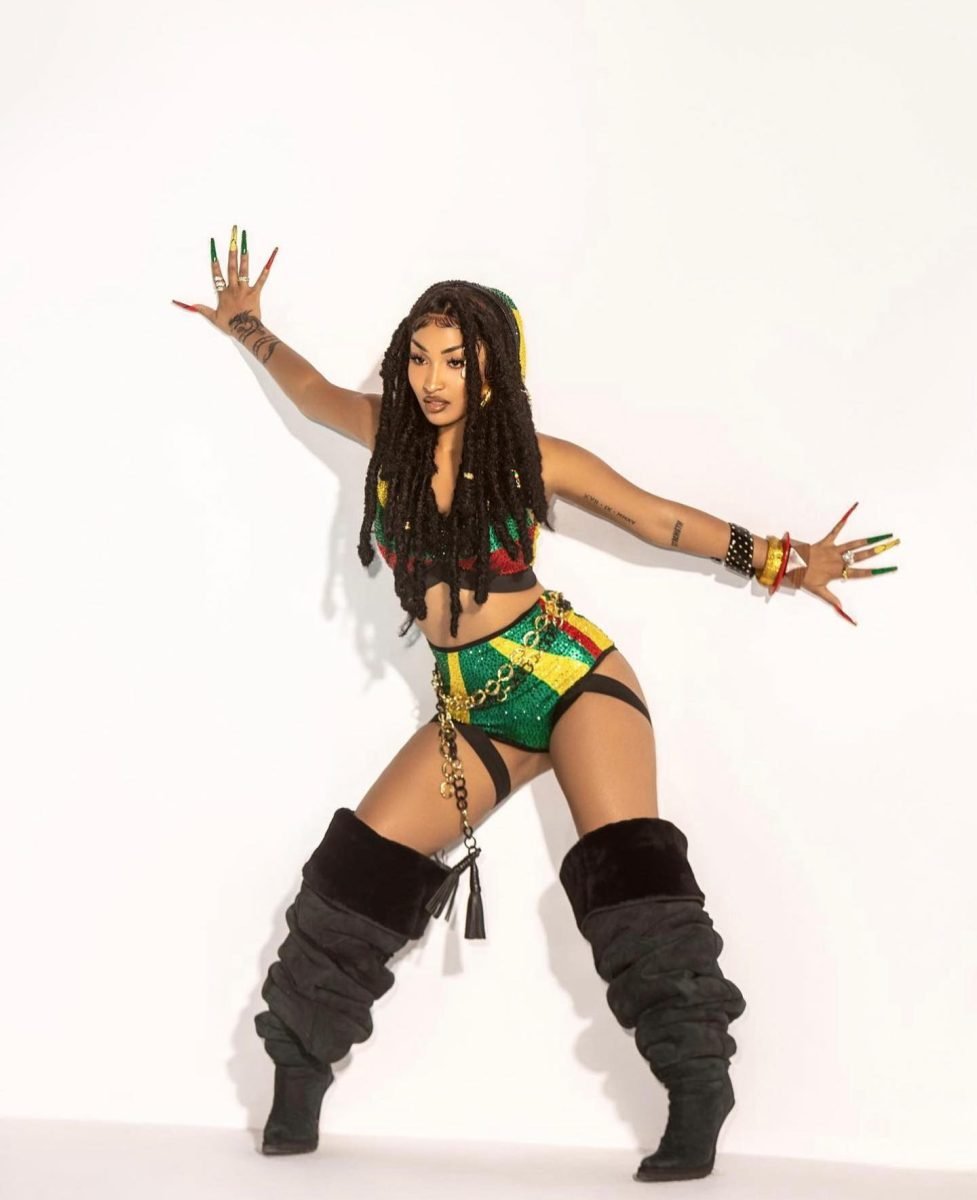 Dancehall artist Shenseea says she finds the United States still stuck on the genre's "old school" hits. For her, the mission is clear: expose American listeners to the genre's new sound, which is now dominant in Jamaica, by mixing it with the old.
The musical strategy is apparent in some of her recent Interscope Records releases, including Run Run, Be Good, Henkel Glue with Beenie Man, Hangover, Curious, and now Sold Out, which dropped on Friday (June 2) with new visuals shot in Jamaica.
The Jamaican singer, who migrated to the US after introducing her new management in 2021, was speaking on a recent episode of The Shop UNINTERRUPTED, alongside actor Wood Harris, comedian and actor J.B. Smoove, actress Dominique Fishback, marketing executive Paul Rivera, and entrepreneur Maverick Carter.
"When I came to America, it's like when I go to the clubs, people are still enjoying the old school Dancehall. The new Dancehall has not broken ground here," she told the celebrity guests.
The 26-year-old was candid when she admitted that she's blessed to have a marketable image and brand, given that the new Dancehall sound hasn't quite won over the American audience.
"There's a lot of artists [from Jamaica], who came up that you don't know about. I'm just lucky to be one of them that has … you know, an image and face that I [can] market myself in a certain type of way where other people get to know about me," she said.
She continued: "I have been doing new school Dancehall but ever since I came here in America, I said, 'Wait, how are you guys still listening to these songs and be like "oh, this is the jam"?' Like we hardly even listen to that in Jamaica. How are you guys still stuck on this type of music? Don't get me wrong, vintage [music is] very legendary."
The singer, who signed to Interscope four years ago, explained that she's taken on the responsibility of sharing the new Dancehall sound with the world through her music.  "So I feel like, I take it up on myself to be like, 'Nah, I gotta help my culture [to] expand and help you guys catch on to what's happening down there'. So I try to mix both," she said.
When asked how "her Dancehall style" — the newer, more current-sounding version — compares to the old-school version, Shenseea explained, "So my Dancehall that we do these days is more like, it's mixed with more melodies, and trap, and different sounds."
"Back in the day you will hear like steel or a little drum and then an artist is just like doing this little like (she imitates a one-drop drum pattern). The type of music we're doing now, it goes like this (she swirls her hands). It's more flowy on the beat, yeah, you feel me?"
Sold Out, which was produced by London On Da Track, Dready, and Phil The Keys, is a familiar narrative of betrayal and 'fake friends' laid on undeniable Dancehall beat. 
The music video, directed by AKA. Ruppi, features Shenseea in short red hair and a Rasta-colored bodysuit, and cameo appearances from her Jamaican manager Romeich Major and former stablemate Ding Dong. 
During the celebrity sit-down, Shenseea was also asked to explain how she was able to take a genre that is so 'traditional and personal to Jamaican culture' to create her own sound without producing a "new version" of the music. 
"Once you're destined for something and you are chosen, it is what it is," Shenseea told the group. "I wouldn't have gotten this far to have the opportunity to be like 'oh, I wanna mix it up now,' if I wasn't chosen to do this." 
"When you look at my country, there's not like a thousand of us that make it out, no. [It] be like 10, 20, you know. So you gotta be like, "Okay", this is what I'm chosen for. God wouldn't choose me if I was not strong enough to do it. He knows that I can handle the pressure of the world, of the audience."
"I know that, and that's why I'm still here doing it, because I feel like I'm chosen it's my destiny regardless. I've seen this thing [dream] from I was a kid like this," she said.
The conversation touched on how influential Jamaican people and culture were worldwide, and the Rebel singer said she believed the music would be more impactful if there were more unity in Dancehall:  "Yeah, we know that we have a major influence right? But I feel like we as a Dancehall community in Jamaica, if we [were] unified more, we would reach even further."
"We inspire a lot of genres; Hip Hop, Reggaeton, everything … you feel me," she added while expressing her love for Afrobeats music. 
"I love it. To me, Africans and Afrobeats to Dancehall is like brothers and sisters. Like we move as one. I have a big fan base in Africa because Africa really tuned into Dancehall," she said.
Press play on Shenseea's Sold Out above, and check out the full episode of The Shop UNINTERRUPTED below.