'Mary J. Blige's Real Love' Cast Talks New Lifetime Movie
4 min read
Mary J. Blige has established herself as an undisputed legend by candidly expressing personal struggles in her music, particularly in regard to a wide variety of romantic issues.
Her music has served as an inspiration to many, with its empowering message of resilience through difficult times. Now, she hopes to continue this artistic expression through film, giving her fans a new way to connect with her music.
Blige, who has previously had success with Lifetime through the biopic productions of Betty & Coretta and The Clark Sisters: First Ladies of Gospel, is partnering with the network again for two new original movies later this month in celebration of Black Music Month.
Blige's latest focus is the movie Mary J. Blige's Real Love, which she is executive producing through her production company, Blue Butterfly. The movie will premiere on Lifetime this Saturday, June 10, at 8 p.m.
Starring Ajiona Alexus and Da'Vinchi, the film, directed by Camrus Johnson and written by Sonja Warfield and Rachel Ingram, is loosely based on Blige's 1992 classic "Real Love."
It follows Kendra (Alexus), a student at an HBCU striving to become a photographer, and her relationship with Ben (Da'Vinchi), a young man aspiring to join a fraternity, who becomes both her inspiration and distraction.
In a previous statement, Blige said, "I wrote 'Real Love' based on my real life experiences and my fans connected to it in a deeply personal way. It's exciting to now use this song and my music to create a new story by way of film, continuing to build on a pillar of the foundation of my production company, Blue Butterfly. My passion for acting and music now include developing diverse stories with music as the backdrop. I am grateful to Lifetime for their partnership in the story of 'Real Love.'"
Rated R&B caught up with Mary J. Blige, Ajiona Alexus and Da'Vinchi to discuss Mary J. Blige's Real Love.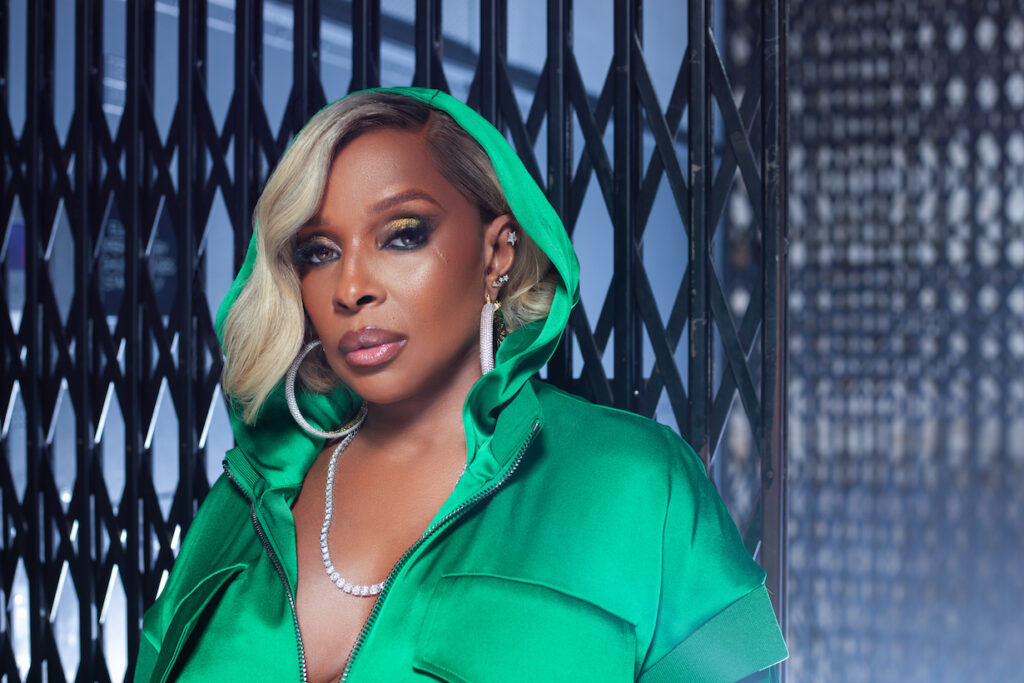 I watched Mary J. Blige's Real Love over the weekend and was blown away and so invested in each character, Kendra and Ben. I'm curious to know how you felt Ajiona Alexus and Da'Vinchi did in their roles?
MARY J. BLIGE: I hand-selected them. I'm a fan of BMF and I saw them in [in the series], and they were such strong actors. Everybody was great in BMF, but these two really stood out. I really believed them, and I wanted them for the movie. So, their performance was phenomenal. They did great. They did excellent.
Da'Vinchi, you and Ajiona are no strangers to each other, appearing together in season one of BMF. Now you've joined forces in these two movies as leads. What was it like developing a bond through this style of storytelling?
DA'VINCHI: It was dope. In BMF, we hated each other. In this movie, we love each other. But the great part about it is that we had chemistry and were cool off filming. When we weren't filming BMF, we would play games and chill. The cast would hang out. When we found out we got this movie together, it was like, "Oh, bet! It's gonna be lit!" We already knew each other. We know how each other works, and we both take our craft seriously. So it was just magic. We were able to create freely.
Can you explain your connection to Mary J. Blige's "Real Love"?
AJIONA ALEXUS: I'm a '90s baby. My mom always played old-school music. So, "Real Love" is just a big part of my childhood. And the fact that they made a movie from the song was just, to me, iconic and groundbreaking. When I got word that I was gonna play this role, I immediately blasted the song. It's classic. It's iconic, but most importantly, I think lyrically, it's just a strong song. The way that they incorporate it into storytelling, I think is what is even more groundbreaking. I can't wait for it to have a big impact on the people, just like the song itself did.
I understand that you graduated from the College of Central Florida several years ago, which is not an HBCU. However, have you had any prior experience at an HBCU before working on this film?
DA'VINCHI: The dopest part about the timing of this movie, is that right before I started filming it, I came off of a HBCU tour. I really got the real HBCU experience, like going to Howard, one of the biggest HBCU schools out there. I was able to really interact and talk with the students and see what life was like.
For your first two original movies, you chose to focus on love stories. Are there any other movie genres that you think your music could fit into?
MARY J. BLIGE: Drama (laughs). Horror (laughs). Action films. I have so much.
In honor of Black Music Month in June, could you suggest an R&B album that would make a great gift for someone?
MARY J. BLIGE: My Life
AJIONA ALEXUS: My Life 
DA'VINCHI: Confessions [by Usher]
Watch the trailer for Mary J. Blige's Real Love below.
Read Rated R&Bs revisit on Mary J. Blige's song "Real Love" here.