Babyface Performs for NPR's Tiny Desk Concert Series
3 min read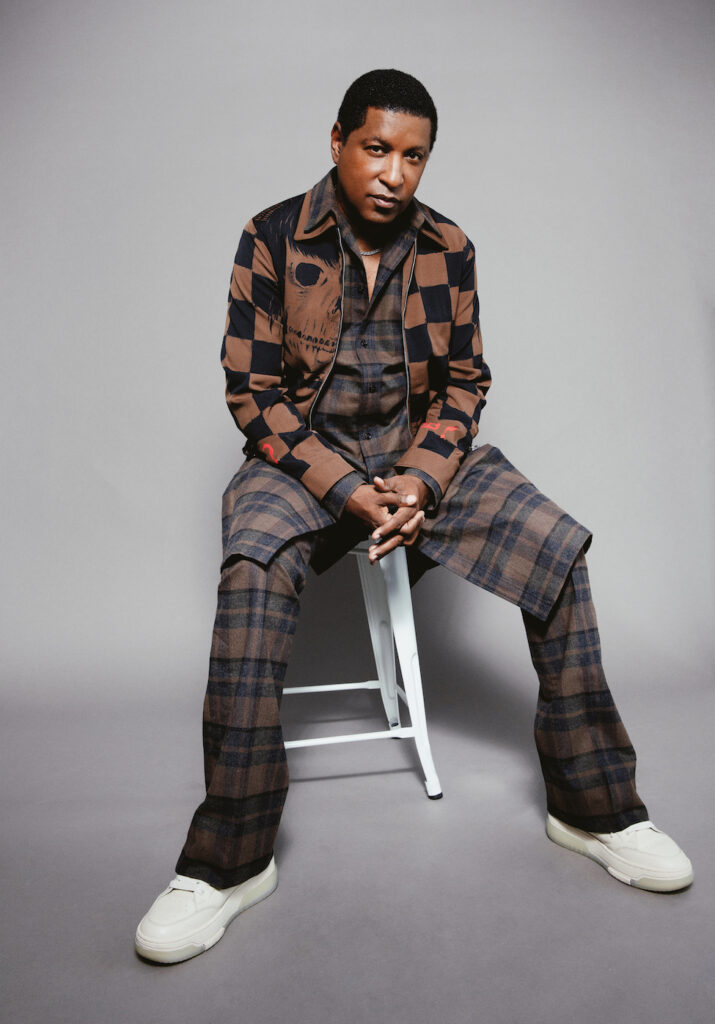 In honor of Black Music Month, Babyface visited NPR's headquarters to perform a Tiny Desk concert. 
Accompanied by a full band and joined by Avery Wilson, Chanté Moore, and Tank for backing vocals, Babyface kicked off his nearly 30-minute set with "Two Occasions." The song was co-written and co-produced by Babyface during his time with the Ohio-based group Deele. It was later incorporated into Mariah Carey's hit single "We Belong Together" and its remix in 2005.
Next, he performed "Whip Appeal," a timeless tune from his second album Tender Lover released in 1989. The song reached No. 2 on Billboard's R&B/Hip-Hop Songs chart (then known as Hot Black Singles chart) and No. 6 on the Billboard Hot 100 chart, marking his second top-10 hit on the latter chart.
Babyface continued his music history lesson with a Moore-delivered rendition of Karyn White's "Superwoman," one of the many No. 1 hits he wrote and produced with L.A. Reid and Daryl Simmons. But, before he did, Tank asked him how he got into writing about women-sung anthems.  
"When I was a kid, I was always like falling in love and getting my heart broke and stuff," Babyface told an empathetic crowd. "So when I would do that I'd be writing like these sad songs and stuff and I just realized I was probably feeling the same hurt that all the girls that you was hurting."
Moore sang more songs that Babyface referred to as "girl songs," such as Madonna's "Take a Bow" and Mary J. Blige's "Not Gon' Cry."
Wilson fittingly got his moment to shine with his take on Tevin Campbell's juggernaut "Can We Talk." Then, Tank teamed up with Babyface to perform "Change the World," a song produced by Babyface for Eric Clapton in 1996 for the film Phenomenon.
Babyface and his talented trio concluded their performance with a few other popular R&B songs, including hits by Boyz II Men and Whitney Houston. 
In February, Babyface launched his first song, "As a Matter of Fact," under P Music Group. He wrote and co-produced it with Tommy Brown. Recently, the song became his 16th top 10 single on Billboard's Adult R&B Airplay chart. It's also his first top-10 single as a solo artist since 2016. It's now No. 8 at the time of publication.
Before releasing his current single, Babyface collaborated with current R&B stars, including Ari Lennox, Kehlani, Coco Jones, Queen Naija, Muni Long, and Ella Mai, on an album called Girls Night Out under Capitol Records.
Babyface's track with Mai, "Keeps On Fallin'," was nominated for Best Traditional R&B Performance at the 65th Grammy Awards. It also peaked at No. 1 on R&B radio.
In other news, Babyface is performing with Anita Baker on her Songstress Tour. His next concert with Baker is June 30 at United Center in Chicago, Illinois.
Babyface will support Charlie Wilson, who recently performed a Tiny Desk Concert, at the Filene Center in Vienna, Virginia.
In addition, he will also be performing at the Hampton Jazz Festival later this month. Tickets are available at babyfacemusic.com. 
Watch Babyface's Tiny Desk Concert below.