Normani Teams With Bose to Tease New Single 'Candy Paint'
3 min read
Singer Normani has teased the release of her new single "Candy Paint," partnering with Bose, a premium audio solutions company, to promote it.
Normani discussed her creative process in a one-minute ad, emphasizing her pursuit of perfection in all aspects of her work, including music and choreography for the accompanying visuals.
Throughout the ad, she is seen sporting Bose QuietComfort® 45 Headphones and Bose QuietComfort® Earbuds II. Prices range from $249 to $279. 
In a statement, Normani said, "As I evolve in this next chapter of my career, so has the sound I've curated. Every small element has an impact on how fans will hear my music — from the instrumentation, the tones, and the lyrics. Bose understands the power these intricacies have on the music listening experience, so I'm excited to partner with them to tell my story and give fans a preview of my new music."
Jack Daley, Bose's VP, Global Media & Partnership, stated, "At Bose, we're a community of music lovers, and we partner with artists to help showcase the power of sound during the moments in their career that matter the most. Like her music, Normani is a force in the industry — we're excited to premiere this track with her and for what our relationship will hold in the year ahead."
Normani has described her upcoming single to Billboard as a track inspired by Texas. "I really wanted to create a record that allowed me to show my personality. I feel like there's a misconception; it probably has everything to do with my social media," Normani explained. "I think that people think I'm so series, which is the complete opposite [of me]. Anybody that knows me knows that I'm really funny. I'm a goofball! I love to twerk. I'm regular. I really wanted to create a record that encompassed that and allowed my personality to shine."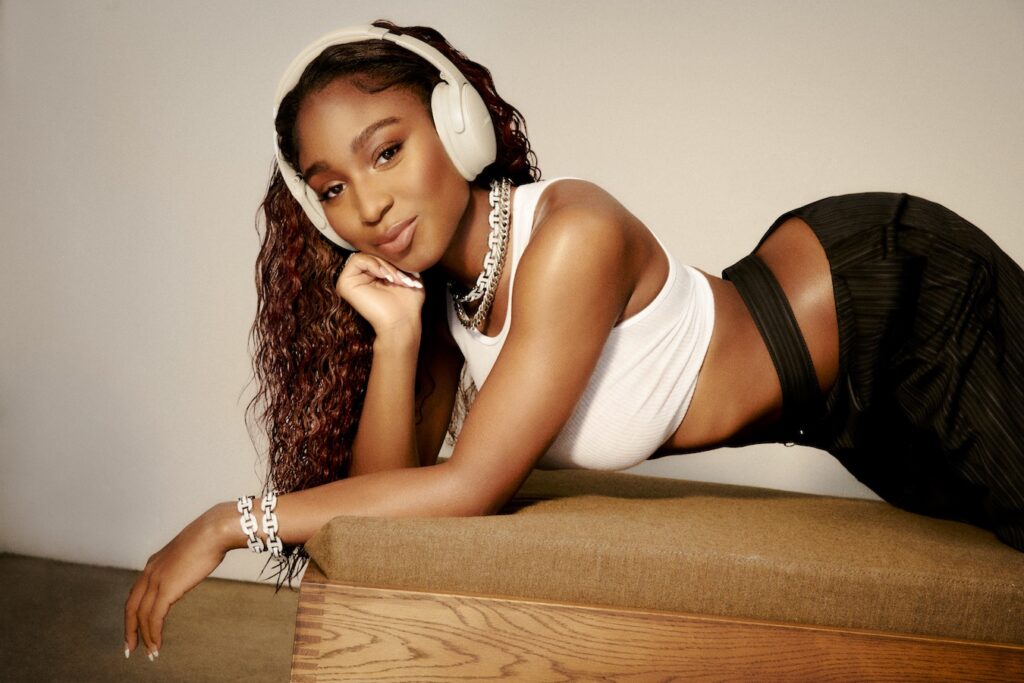 Normani has confirmed that she hasn't filmed the "Candy Paint" video yet, but she's looking forward to doing it soon.
It has not been announced when "Candy Paint" nor her long-awaited debut album will be released.
It has been over a year since Normani headlined a single. She released "Fair" last spring and described the recording of the track as therapeutic.
"It captured me in the moment as I was experiencing. In real-time. I was going through it emotionally that day. I wasn't sure if I could even really pick myself up to go to the studio. But ended up, and this was a result. And it's therapy for me. As much as it is for everyone else, it's for me. It's really crazy that putting this record out. I didn't know that it was going to be for me too," said Normani told Zane Lowe of Apple Music.
Upon its release, the HARV-produced track debuted at No. 1 on Billboard's R&B Digital Song Sales chart and No. 14 on Billboard's Hot R&B Songs chart. It also started at No. 18 on Billboard's Digital Songs Sales chart.
"Fair" followed Normani's Cardi B-assisted track "Wild Side." The song soared to No. 1 on urban radio, becoming her first chart-topper on that list.
The RIAA awarded it a gold certification in October 2021. A Kaytranada-produced remix was issued amid its success.
Last year, Normani made many featured and cameo appearances on songs and in videos. She linked with fellow Houston native Josh Levi for his "Don't They (Remix)." She starred as the love interest in Chris Brown's video for "WE (Warm Embrace)," now nominated for Video of the Year at the 2023 BET Awards.
Additionally, Normani collaborated with Tinashe and Calvin Harris for "New to You." The song appears on the Scottish DJ's Funk Wav Bounces Vol. 2 compilation, released in August 2022.
Hear Normani's new track "Candy Paint" in the new ad below.