After Decades of Creating A Symphony Of Musical Masterpieces, Legendary Singer, Songwriter, and Producer Babyface Is Honored with the Icon Award at The 3rd Annual "Hollywood Unlocked Impact Awards!"  | ThisisRnB.com – New R&B Music, Artists, Playlists, Lyrics
4 min read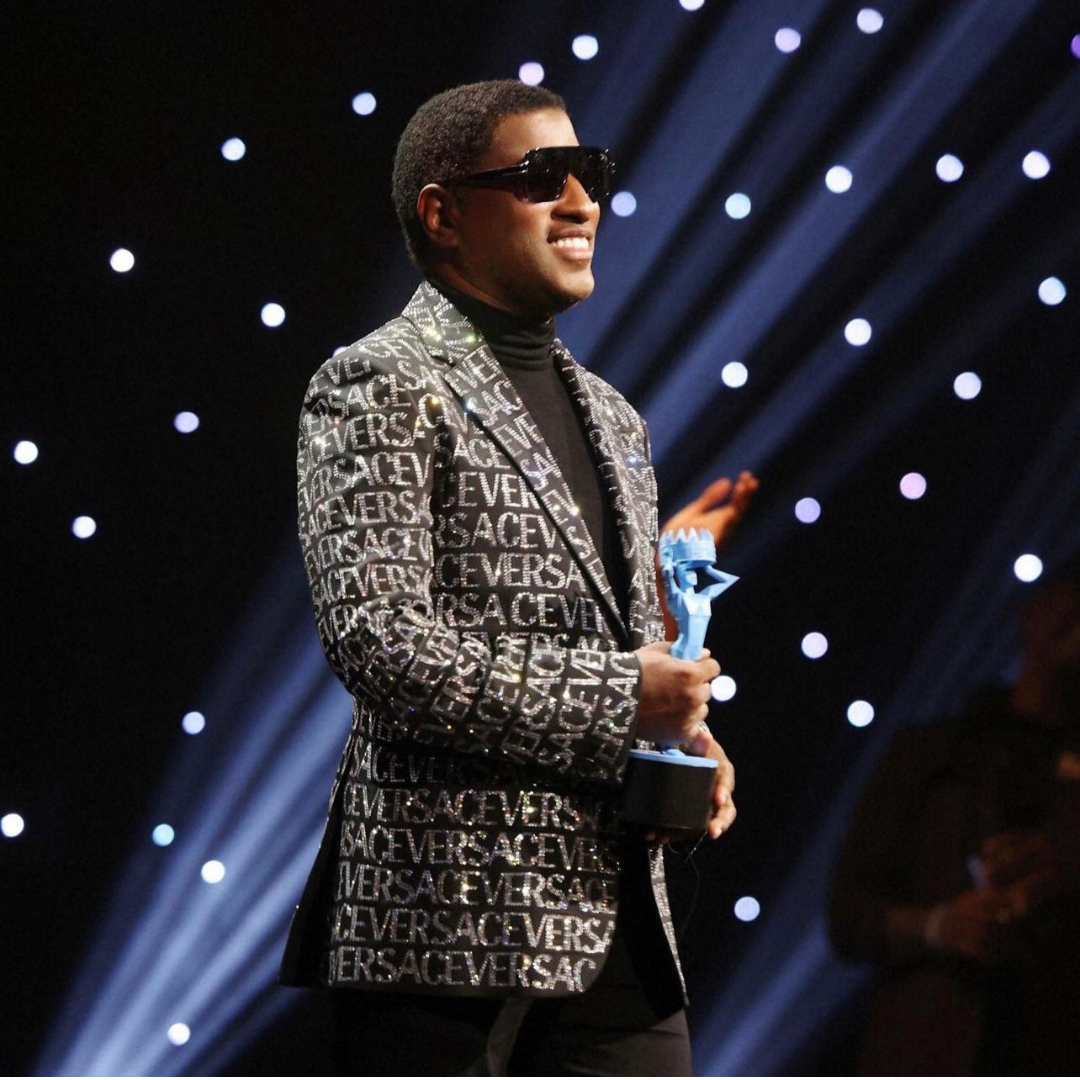 "All I've ever done is try to make music that feels good, music that touches people" -Kenneth 'Babyface' Edmonds
When Icon singer-songwriter Kenneth "Babyface" Edmonds stepped on the blue carpet this past Tuesday, it was a legendary moment, a fashion moment, and a moment of awe. Throughout his career, he has amassed 12 Grammys, 51 BMI awards, 5 NAACP Image Awards, 5 Soul Train Awards, and 4 American Music Awards. So when it was time to hand him his flowers again, this time it would be the prestigious Icon Award at the 3rd Annual Hollywood Unlocked Impact Awards. 
Created by Hollywood Unlocked Founder Jason Lee, The Hollywood Unlocked Impact Awards was invented to honor Black and to bring Black folk into the culture to spaces that aren't dominated by Blacks, this year's theme was 'Bet On Black'. "For me, the Hollywood Unlocked Impact Awards is about honoring people who look like me – pushing culture, not mainstream. We're all gonna invest and invite ourselves into mainstream spaces but we can't forget to take the culture along for the ride. And that's why I created this and the people that I honor are the people that matter to me," said Lee.  
And honoring Babyface matters to Jason Lee.  ThisIsRnB.com caught up with Babyface on the blue carpet and it was a night to remember. When asked how it feels to be the King of R&B and honored with the Icon Award the legendary recording artist said "It feels great! I don't know about the King of R&B so let's not get that started," he laughed jokingly in his humble, soft voice. As an Icon Award recipient, I couldn't let him walk away without telling us what he wants his legacy to be when people think about his music. "All I've ever done is try to make music that feels good and that touches people." 
It was funk performer Bootsy Collins who gave Kenneth Brian Edmonds his moniker "Babyface" because of his youthful look. The byname would also prove to bespeak timeless music, renowned ballets, and tender emotions that continue to evoke passion and deep feelings. He'll always be known as a man who gave a voice to romance, love, and heartbreak – whether it's End Of The Road by Boys to Men, Exhale Shoop, Shoop by Whitney Houston, Breathe Again by Toni Braxton, or Never Telling Secrets – his musical contributions continue to carry us through the seasons of life and love. 
During his acceptance speech, Babyface broke into song, showing off his smooth, romantic vocals that we've come to know and love. "Work it on me/ Wherever you want/  it's alright with me/ you got that whip appeal/ work it on me/ yea it's better than love/ sweet as Candy, you've got the whip appeal so whip it on me/ Keep a whipping on me, work it on me," he sang at the opening of his speech before admitting that he "did that because I didn't write a speech." The crowd laughed at his remarks and sat in awe as he spoke of his musical career and journey.
"…When I think of the Icon Award I think of, it's always hard for me to see myself as an Icon because I didn't do it by myself.  It's every one of you that inspires me and the artists that I work with that it all comes from and God, you know God put me here. I didn't do this by myself. And when you speak of the culture – it's the culture that is always inspiring and I watch everyone and everything and every one of you inspires me. So it doesn't just come from me, it comes from you. And I'm just blessed to live in this world and be a little kid from Indianapolis, Indiana that just had a dream to write music and be a part of music," he said during his acceptance speech. 
"I didn't step in this to be a star, I just wanted to work with stars. I wanted to write for stars and God blessed me to be able to do that. And so, to be standing here with you. It's just amazing to watch aloof our people become what they become. They become the stars – not just the stars but the stars actually to chase after and it's been an amazing journey and I'm blessed to be able to stand here before you guys and humbly accept this award. I thank you so much, that's all I have to say." 
Congratulations Kenneth 'Babyface' Edmonds!
For more information on Babyface, visit him on IG @babyface