Revisiting K. Michelle's 'Rebellious Soul': 10 Years Later
25 min read
The cover photograph for K. Michelle's debut album, Rebellious Soul, suggests a disappointing evening with another suitor. Long-stem roses, assumed to be a gift, are scattered on the floor of a dimmed room of melting cherry candles. Elsewhere, K. Michelle, with crimson-colored hair, clutches two roses tightly in her right hand as if she's desperately holding onto the love she thought she had found.
Even before this dreary album artwork surfaced, K. Michelle had an eventful few years before the release of her debut album, one involving a label switch and title alteration, along with a parade of unsatisfactory singles.
K. Michelle's first album was originally titled Pain Medicine. It was meant to acknowledge personal traumas and other thorny issues to reclaim a sense of self. "It's a kind of a record that talks about everyday issues, not just how a man left you, but everyday issues from struggling with your sexuality to issues with domestic violence. So, I'm offering a form of healing and a helping hand to a lot of my fans," K. Michelle told You Know I Got Soul in a 2011 interview.
Pain Medicine was supposed to release on Jive Records, four years before it launched on Atlantic Records in August 2013 as Rebellious Soul. Her affiliation with the former label began in late 2008 when she signed through a venture with Hitz Committee, an imprint founded by Mickey "MempHitz" Wright, a then-booming A&R executive responsible for signing T-Pain in 2005.
The Trina-assisted single "Self Made" followed in spring 2009 following her new deal with Jive Records. Overflowing in confidence with a singalong hook for independent women to blast with the windows down, the anthem seemed like a surefire hit. Instead, that track, and the Gucci Mane-guesting remix, did little to storm the charts.
Still on Jive Records, K. Michelle placed several other singles on the charts, including "How Many Times," the last in a wave of previews for Pain Medicine. Hitmaker Sean Garrett (Beyoncé, Usher) was enlisted to write the piano-laden number. However, it still wasn't enough for "How Many Times" to conquer radio audiences.
Things went awry between Jive Records and K. Michelle shortly after releasing the "How Many Times" video. The singer went on to express vehement opposition about how the label was handling her career and delayed album release.
K. Michelle took her frustrations to the studio, releasing an R&B freestyle medley she recorded of songs by Jamie Foxx, Trey Songz and DJ Khaled in June 2011. In it, she uncorked her irritations with Jive Records, specifically at the 15-second mark, on Foxx's "Best Night Of My Life" beat. "Somebody call and ask Jive what they waiting for / Fuck it, it don't matter though / 'Cause I'm still a star / Ima shine, baby, even if they let me go," she rhymes.
She also had some words for MempHitz. "If he ain't got no hitz / Why don't you send his ass home," she sings over DJ Khaled's "I'm On One" backdrop.
It wouldn't be long after this medley and other remixes that K. Michelle would unleash more feelings of being left out in the cold. In October 2011, it was officially announced that Jive, Arista and J Records had merged into RCA Records, which Tom Corson was leading then.
Corson told The Hollywood Reporter of the reconstruction, "The artists have all been supportive. We didn't make this move without consulting our artists, and we haven't had any pushback. Frankly, they're the band. We're defined by our artists."
Contrary to reports, K. Michelle, who had already revealed the fold of Jive Records earlier that summer, seemingly didn't get heads up as those Corson mentioned in his statement. "I'm not sure if you know but there's no more Jive. It's a merger," she told BET in an interview. "And all of us artists are being placed on different labels at this time. So as far as my album, as far as different things, I have absolutely no idea. I am just as much in the dark as my fans."
K. Michelle also had suspicions that Pain Medicine would never see the light of day, nor if she'd be signed long under the parent label. "I will probably have a whole new album," she said. "It's not a bad thing. It's just getting your home and getting settled and unpacked in your home. I'm considering everything I did with Jive as artist development, which labels don't do anymore. And people are starting to pick up on me. So now I'm ready to be who I want to be. And not waiver from it."
Mona Scott-Young, a prominent television producer and entertainment mogul, was among the new faces to recognize the talent of K. Michelle. After the successful second season of the reality series Love & Hip-Hop New York, Scott-Young was eager to expand the franchise to other cities.
The spinoff show featured Atlanta as its next location, and K. Michelle was among six other women selected to be a part of it in June 2012. Love & Hip-Hop Atlanta gave K. Michelle a platform to reintroduce herself as an artist and let her unique personality shine through.
"I had a lot of things happen to me within my record deal, and I wanted the opportunity to tell my story to people. When I was approached about Love and Hip Hop it just was something that felt right for me," K. Michelle told Ebony Magazine, while she promoted the show leading to its premiere.
Throughout Love & Hip-Hop Atlanta's ten episodes, viewers saw K. Michelle focusing on the hard work of being an artist. The fruits of her labor was heard and sequenced in various scenes, one of which was "Bury My Heart," a song that would turn up on her mixtape, Zero Fucks Given, released mid-season that summer.
Zero Fucks Given was a 24-track mixtape executive produced by DJ Trendsetter Sense under his Rhythm and Streets brand. DJ Sense first saw the emerging artist at a radio concert in Columbia, South Carolina. She was on the bill with then-rising rapper J. Cole. "I said, 'Who is this girl acting like Mary J. Blige with a Jack Daniels in her hand on stage,'" DJ Sense recalls with a laugh.
DJ Sense occasionally crossed paths with her and offered music advice, hoping to collaborate on a mixtape. He saw his opening after she had completed her first season of Love & Hip-Hop Atlanta. He scheduled a meeting with K. Michelle through Jeff Robinson's assistant, as Robinson was rebuilding his team after parting ways with Alicia Keys. K. Michelle and Elle Varner were his newest clients at the time.
They met at Tin Lizzy's in Midtown Atlanta to discuss a mixtape. DJ Sense persisted until K. Michelle agreed to try. She devised the mixtape concept and cut the songs but relied on DJ Sense to put it together. He went about it like he flooded the streets with mixtapes for rap artists.
"I said, 'Even though it's R&B, I'm gonna just attach it like we would with the hip-hop mixtapes. What she had going on, being one of the most popular stars on Love & Hip-Hop, I knew it was perfect timing to take advantage of this situation," he recalls.
The moment Zero Fucks Given was released, it became an instant classic both on the streets and online. It was a hard street album through and through, a distinction made clear by the unofficial versions of rap and R&B songs by Miguel, Kirko Bangz, Frank Ocean, and Meek Mill.
K. Michelle's emotional exhaustion from unrequited love permeates throughout the relatable set. She offers women help in navigating romantic potholes, especially with "Not Into You," "When Crying Is Easy," and fan-favorite "Can't Raise a Man" (more than later).
K. Michelle gained instant critical and download-counting success for Zero Fucks Given, which led to more music drops. Next was the humorous "Kiss My Ass," unveiled with the seventh episode of Love & Hip-Hop Atlanta.
The mic-dropping kiss-off was written in response to castmate Mimi Fraust and her fraught storyline and relationship with then-boyfriend and acclaimed songwriter and producer Stevie J.
Beyond being a widescreen case to show a deadbeat suitor the door and frustrated rear end, "Kiss My Ass," along with Zero Fucks Given and other songs, helped K. Michelle secure a recording deal with Warner Records in 2012.
A few of the other tracks that were instrumental in landing K Michelle her new contract later surfaced on The Hold Over, a three-pack EP that arrived nearly two months ahead of Rebellious Soul. David "Swagg R'Celious" Harris and his brother Alonzo "Zo" Harris produced the records after being introduced to K Michelle by a mutual friend, Meek Mason.
Along with songwriter Bianca "Blush" Atterberry, the two went to Atlanta to record with K. Michelle, producing six songs, including "Pain Killa," originally planned as a collaboration with Keyshia Cole. "At one point, we were talking about getting Keyshia Cole on it, and it never happened. I forget the reasons, but I think when we first made it, it was like, 'Man, this would be dope to have Keyshia Cole on it," Swagg R'Celious recalls to Rated R&B.
Regardless, K. Michelle impressed executives and secured a new deal. K. Michelle would quickly be moved to the Atlantic Records roster following that signing, as acknowledged in an interview with The Breakfast Club that winter.
In May 2013, after the season two premiere of Love & Hip-Hop Atlanta, K. Michelle released "V.S.O.P.," the first single from her album Rebellious Soul. Just one day before the release of Rebellious Soul, she performed a sincere love song during the reunion, and also announced her departure from the show.
Rebellious Soul was released on Aug. 13, 2013, via Atlantic Records. In celebration of the album's 10th anniversary, a few of K. Michelle's collaborators share their stories behind select tracks, as well as other songs around the time, with Rated R&B.
The Inner Fight
"I Don't Like Me" is a piano ballad about self-disgust where K. Michelle shamefully admits that lust is all she'll ever have with a man who comes and goes. She feels even worse when he returns to his other woman and constantly compares herself to her, dragging her down into darkness. K. Michelle co-wrote the dreary track with Bianca "Blush" Atterberry, along with its producers Alonzo "Zo" Harris And David "Swagg R'Celious" Harris.
BIANCA "BLUSH" ATTERBERRY: It was more focused on how you feel in those moments of self-doubt, doing things you know you're not supposed to do, not listening to your intuition, and feeling like you've turned into this person that you're not. Circumstances, situations, and relationships — platonic or romantic — will have you out here doing shit out of character, and sometimes you don't like you. You don't like the way you act. That was one of those vulnerable moments that's a real moment for everybody.
DAVID "SWAGG R'CELIOUS" HARRIS: After "Million Hearts," she wanted to do something again that was raw, honest, and real. T. She was like, "I just want emotional music." We started writing it in real-time while playing live in the studio and then went back and cut the vocal over it. It's one of those things where we [didn't] want to overproduce it. In that line: "I Don't Like Me," we wanted to capture that emotion and how it would resonate with millions of people. We've all had those moments and we didn't want to get in the way of that.
ALONZO "ZO" HARRIS: She fought for it to be on the album because it doesn't really fit with that retro sound and the soulful instrumentation over the live bass guitar like "Damn" and "V.S.O.P." A lot of that sounded like it belonged on the same album, but "I Don't Like Me" was a little bit different. Part of her fighting for that song was because it spoke to her, and she felt it would speak to her fans. We sometimes live in these emotional spaces. Now, that doesn't mean we stay there forever, but when we're there, we acknowledge that and be honest with ourselves because that's the only way we can overcome it.
"I Don't Like Me" received a powerful video that contained a softer piano arrangement than the album version.
The Unwritten Lead Single
For four years, despite releasing supposed lead singles, K. Michelle did not receive frequent airplay on urban and R&B radio, leading up to her promised album, Pain Medicine. The release of "V.S.O.P.," the lead single from Rebellious Soul, marked a turning point. It peaked at No. 8 on Billboard's Hot R&B Songs chart. Produced by Pop & Oak, the track daringly samples The Chi-Lites' 1974 classic "That's How Long" and incorporates an element of Debra Laws' 1981 track "Very Special."
It's the only song on Rebellious Soul without K. Michelle as a main co-writer, as Priscilla Renea, now known as Muni Lung, wrote the song in collaboration with Pop & Oak. In "V.S.O.P.," K. Michelle desperately pledges her devotion to a secret love, sparing no effort to make the evening for him one to remember.
WARREN "OAK" FELDER: That song started at a small studio in Philadelphia. I happened to be up in Philly hanging out with Pop. At the time, he had such a deep knowledge of soul music because his father is Dexter Wansel, who's royalty in production, especially as it relates to soul music. We're there listening to "That's How Long" by The Chi-Lites and Pop gets this flash of inspiration like, "Yo, I'm going to chop this sample right now." A year later, Pop and I were in the room with Priscilla Renea. She said, "Let's write." She's a beast of a songwriter. She's not gonna wait for you to finish the track. We gotta have something ready to go. Pop said, "Yo, what about The Chi-Lites flip." I said, "Oh, that's perfect." I pulled it up, added chords and that was it. Maybe 20 minutes later, she had the song written in her head, and she beefed it out in the booth.
We finished the beat, had the demo and I believe Pop sent it directly to K, like, "What do you think about this record?" We didn't get a response at first. But eventually, we sent it to Jeff [Robinson], who liked the song, and then I think he re-sent it to K and she fell in love with the song. I'll say this about K: She's very good at determining her direction. The fact this record was something she was willing to cut told me two things: The concept of it spoke to her in a way that she wanted to share with her audience. It was a testament to how much of a genius Priscilla is for having written it to be able to connect to anyone who listened to it, including K. Priscilla did write that record and she did her thing, but K made it a K. Michelle record. She put an attitude on it that wouldn't have existed otherwise. She determined she was gonna put her character all over the record and the twang that she put on that record is very much her.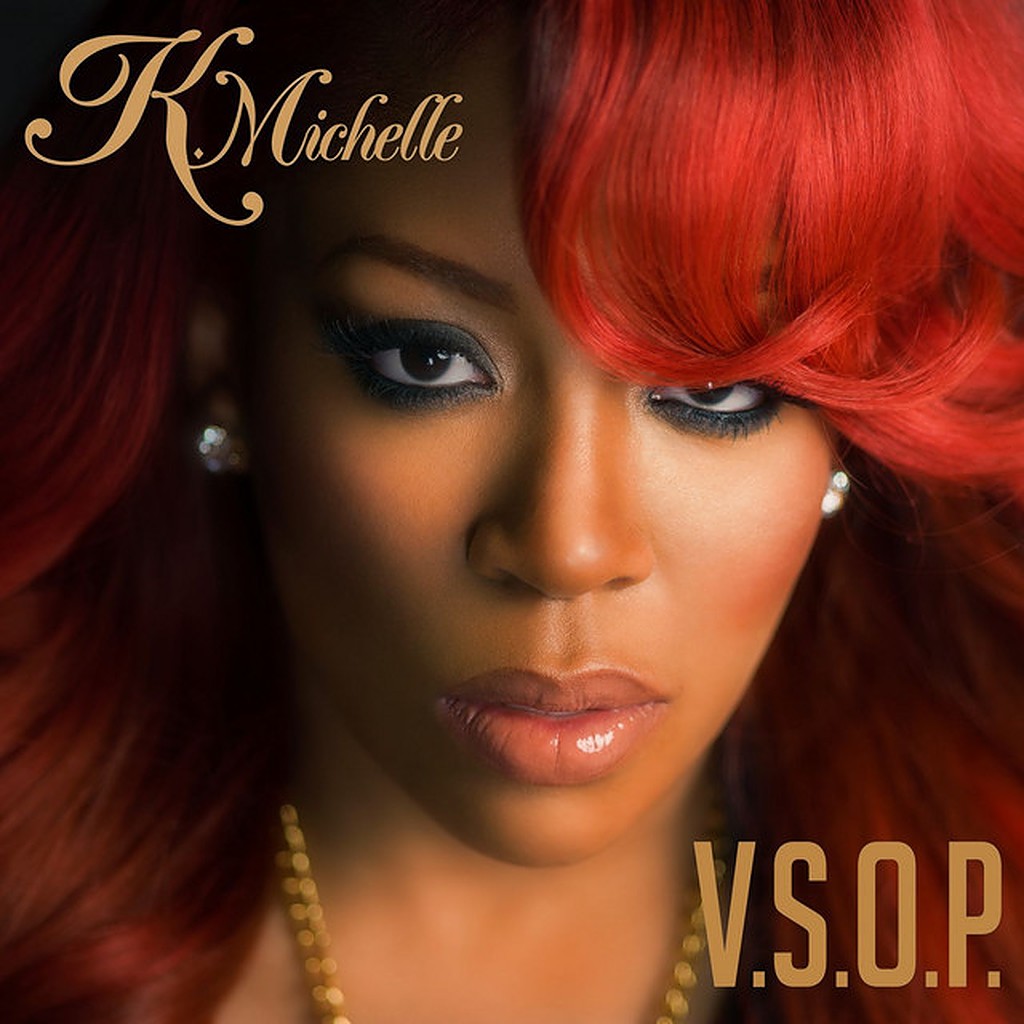 During a 2018 interview with Rated R&B, Renea revealed for the first time that she wrote "V.S.O.P." for her shelved second album that followed 2009's Jukebox.
PRISCILLA RENEA: The second album I made was getting ready to come out on Capitol [Records]. I had a song on there called "V.S.O.P." that was supposed to be the first single. My publisher took the song and played it for K. Michelle because they did not want me to put my album out. They wanted me to stay writing songs for other people. So they sabotaged my album. So, the second album ended up getting shelved because I didn't have a first single. I was devastated. I was like, "What the fuck? I don't owe anybody anything. Why won't they write their own songs? Why do I have to keep doing this?" I mean. I love writing. The only thing I don't like about it is when I get treated like I have to do it.
Before that interview was published, it's worth noting that Renea co-wrote songs for K. Michelle on subsequent albums, including More Issues Than Vogue (2016), hinting the drama was over.
WARREN "OAK" FELDER: To be fair, the day that we did write that song, we were working on it from an artist standpoint for [Priscilla]. I could name about five or six songs that I've done with Priscilla that eventually went to other artists. I think Priscilla sort of got far along in her process that when the option came around to play the record for other artists, she didn't necessarily have an issue with it. She's always pragmatic enough to part with a record if there was a good home for it. That's one thing I always loved about Priscilla. She's always had a creator's mind state.
And what I mean by that is, there's some artists you work with and you cut a record and they don't use it for the project. Then they tell you, "I don't want you to give it to anyone else, either." I've been in that situation a couple of times, and I've respected the artist's perspective, even though I didn't agree with it. Priscilla, though, understands what that's like from the writer's side and the creator's side. When the option to place it on K. Michelle came about, as an artist, I'm pretty sure she was hesitant, but as a writer, she was like, "I'll take the publishing and it works out for me." Whatever other tension there potentially could have been in terms of who was getting that record, I know that K and Priscilla were able to work that out amicably. I'm proud that they were able to do that.
Country Girl At Heart
Subsequent plays of Rebellious Soul reveal that "Sometimes" marked the beginning of K. Michelle deliberately sequencing country-oriented tracks into her studio albums. Famed as a hopeless romantic, she yearns for an apathetic man who lets her drown in her emotions while waiting for his doubtful return. The track, produced by Jack Splash, samples Black Heat's song of the same title and reunites Blush as writing partners.
BIANCA "BLUSH" ATTERBERRY: That was a moment of living in her truth, being able to create music that was not necessarily deemed R&B or acceptable in R&B. She always wanted to push the line with genres. She didn't want to be pigeonholed into one genre like she only does this. She always listened to all types of music. She loves all types of music. But as a Black woman, it's always like, "You only do this." You're not allowed to be multifaceted. She always fought for that. That was always something in the room.
A Wild Imagination Turns Orchestral
Upon first listen, fans were not prepared for "Coochie Symphony," the humorous second of three hidden interludes within Rebellious Soul. Although the album booklet insists it came after the Pop & Oak-produced "Ride Out," it actually tailed the Black Heat-sampled "Sometimes." K. Michelle playfully joked throughout the second season of Love & Hip-Hop Atlanta that her "hot pocket," where she gets kisses down low, was out of commission.
DAVID "SWAGG R'CELIOUS" HARRIS: She came to the studio and had this crazy idea. She was like, "Man, I wanna do this crazy thing about my hot pocket, call it 'Coochie Symphony' and make it orchestral. We just had fun with it. I think a lot of it was a freestyle. She laid her thing down and I went in and was goofing around and she's like, "Yes, yes, yes. Keep that." I think the point was not to take yourself too seriously with it, but just be different and push the envelope. She wanted to push those boundaries and do things that no female in R&B was doing. [It] was kind of reminiscent of Millie Jackson. I think she was having fun with it and just wanted to stand out, and that's her personality.
ALONZO "ZO" HARRIS: I was doing shows with her as a musical director. She had this thing [back then] that said: "I'm not interested in sex right now. I was in love with somebody and it didn't work out and my coochie doesn't work for anybody but him. And since it didn't work out with him, it's closed. It doesn't work." She was like, "I want to sing about it." She started singing and was like, "Follow me." We were all looking at each other in the band like, "What the hell is doing?" I just started improvising. When she was singing (My coochie don't work no more), I just went into my bag of tricks and pulled out some of my European classical knowledge. We used to do this on shows, and she would narrate her shows that way. She would always have a stage personality that would connect with her crowd so well and "Coochie Symphony" was one of those things. When we produced it in the studio, I knew exactly where I wanted to go with this. My vision for it musically was like a cartoon, as if you could see Bugs Bunny directing an orchestra.
I first took what we had done live and composed it as what you hear on the piano. I played a demo of it and she liked it. I had to produce her how to sing it. I had her sing a scratch track. I played against it and then produced around it. She came back and did it for real in her classical soprano voice. I went back and played piano after I brought the strings in and did all the orchestrations. I used a grand piano to make it sound how I thought it should. It was a lot of work that went into it. I didn't have a 75-piece orchestra. I had to overdub a string quartet. I had about two to three singers. It was me on piano and some electronic version of orchestral sounds and it takes a little while to get that going. But we made it happen and were all happy with the result.
The Dark Horse Third Single
Atlantic Records only promoted two singles, "V.S.O.P" and "Can't Raise a Man," from Rebellious Soul, despite having more potential singles. One of these overlooked songs was "Ride Out," a writing collaboration between Atterberry and K. Michelle, which samples Barry White's Love Unlimited Orchestra's 1974 composition "Somebody's Gonna off the Man." On this jeering kiss-off, K. Michelle is tired of her elusive lover, leaving him to deal with the aftermath. "You never thought I'd walk away / But things change when you're not around," she sings.
BIANCA "BLUSH" ATTERBERRY: That song is a bop. I remember [that session] being fire and the energy in the room being high. Everyone was excited. Everyone loved it. Oak is incredible. He's just always been amazing. He's probably like my favorite collaborator on her album. The songs we did with him, I feel like were just insane.
WARREN "OAK" FELDER: "Ride Out" was the first record I ever did with K. Michelle. We did it in Atlanta. It was a quick one-and-done session. The best thing about working with certain artists is you kind of know if you're gonna have good chemistry by how the first session goes. We kind of got to know each other through making the song, which is always great. The song came out incredible. The sample was my idea. I grew up listening to a lot of music — all of us as creatives — and I always wanted to use that loop. I love that track, man. Trust me, I felt the same way back then [that "Ride Out" should've been a single]. Not that I'm mad at what records came out for that project. I'm very thankful to have been a part of it. Plus, you find there are records that were either album cuts or that tend to be the songs that stick in the cultural memory. "Ride Out" is one of those songs.
While other studio associates suggest that "Ride Out" was a plausible choice for single three, "When I Get A Man" caught the attention of another. The track produced by Eric Hudson has K. Michelle preparing to become the ideal trophy wife for her next suitor.
ALONZO "ZO" HARRIS: Even though this doesn't apply to me, I found myself singing it, and people would laugh because it's a song written by a woman for a woman. I just liked the production because it brought back some gospel quartet, which was produced by Eric Hudson, whose sound includes all of that. "When I Get a Man" should have been a single. That was a really good record. It could've been a good follow-up to the "V.S.O.P." storyline. It's a little bit off, but we could have created something. When you're putting shows together or albums, you want a storyline or concept to sell. Being that it was Rebellious Soul, each single could have had its own I.D. and still come back full circle to the rebellious soul theme.
She Loves Chase
K. Michelle has always included lyrics about her son Chase in her music, as heard in earlier tracks like "How Many Times," "U Gonna Learn," and "Don't Say Sorry." During the finale of the standard version of Rebellious Soul, K. Michelle dedicates "A Mother's Prayer" to her child. It's a more personal dedication than her previous songs. In this emotionally stirring lullaby, a mother prays for her son's protection, hoping that he never experiences sadness and he always remembers who he is even when the world is unkind.
BIANCA "BLUSH" ATTERBERRY: That's my favorite, just because I've seen what it even did on social media, how women used it to talk about their love for their children. That's why I write. That's why I do what I do because people are able to use it and have emotions behind it and tie it to their life somehow and relate to it in that way. And me and K are single moms. We are raising sons. I see so many single mothers of songs who have used this sound on TikTok for beautiful moments. I love that for us.
DAVID "SWAGG R'CELIOUS" HARRIS: That started with a conversation. She was out here working, and her son was back home with family. I had a guitarist I was working with come around. He started playing some chords and I sang, "Last night, I prayed on a shooting star," and she was like, "Yes, yes." Then she and Blush started freestyling. I didn't have kids at the time, but Blush had a son. So they were able to finish the idea from a mother's perspective, which was incredible. [We wanted to capture] those raw moments, play with minimalism, and draw people into what the lyrics were a glimpse into her reality. Those moments that you have when you're all alone. Those regrets. She felt comfortable bringing those things to us. So that was really cool to be able to provide that soundtrack to those honest moments on the album.
ALONZO "ZO" HARRIS: "A Mother's Prayer" was always special because that was something very spiritual and very dear to me, because I, too, have a mother who prayed for me. It will always be something that's dear to me and hearing it again, even now, brings me back to that place when we did that song.
Leave It There
Rumors circulated in the fall of 2012 that K. Michelle and J.R. Smith, who played basketball for the New York Knicks at the time, were an item. The two were frequently seen flirting on Twitter and going out together. As soon as the chemistry between the two soured, she went on an apology tour to win back his affection, as evidenced in an appearance on Hot 97 that winter. She did an impromptu performance of "Million Hearts" that later appeared on her 2013 EP, The Hold Over. In "Million Hearts," K. Michelle pleads with an uninterested suitor to reciprocate her feelings in this sprawling piano ballad. There are points where it sounds like K. Michelle is almost in tears.
DAVID "SWAGG R'CELIOUS" HARRIS: We were trying to capture that raw emotion. We were writing while my brother [Alonzo "Zo" Harris] sat at the piano playing in real-time. It wasn't like lay the piano track and then listen to it and loop it. He was playing it until we finished writing it (laughs). It was very much an emotional moment that we took a snapshot of in real time and I think that's the way it feels. I'm happy with how raw it feels and how it translates on record.
K. Michelle confirmed in February 2013 to The Breakfast Club that J.R. Smith inspired Rebellious Soul. "Dudes use us for coochie; I use men for songs," she told the hosts. "He played me. I was in love, man."
On the deluxe version of Rebellious Soul, K. Michelle sought revenge for the humiliation inflicted by J.R. Smith on "The Right One." It was heard first as a hidden interlude following the Meek Mill-assisted opener "My Life." The full version, co-written by Tank, features undertones of danger and desperation as K. Michelle no longer spares her feelings. By no means does this vicious kiss-off offer the chance of reconciliation. As pointed out in the last five seconds, it marks the end of a fairytale.
Back in 2020, in Rated R&B's Board + Pen series, Tank discussed the song's creation.
TANK: That song came about by just me and her sitting there talking. We just got in there, got a couple of drinks and just sat there and talked. She was telling me about a situation, saying, "You think you're going to get that shit off. You got the right one, baby. I promise you got the right one." I said, "That's it. That is it. Turn the mic on (laughs)." I literally wrote K. Michelle. There is no Tank in that song. We had a conversation. I know K. I know her mannerisms. I know how she gets down, so I just painted a picture of K. Michelle — period. I didn't need to add nothing. Plus, she kills [this song] in concert.
A music video for "The Right One" directed by Juwan Lee was released during the promotional cycle for Rebellious Soul, but has since been taken down from YouTube.
Rebellious Soul is a record born from a second chance in the music industry. Her breakout year was 2012, when she landed on Love & Hip-Hop Atlanta and informed fans about what happened in her previous deal.
By August 2013, R&B studio albums regained popularity after genre upheaval. Emerging acts and veterans had music weighted more heavily toward dance-pop and electronic, much of which made some look desperate to sound vital. However, while some artists abandoned R&B, K. Michelle and a select few continued to pursue the genre, establishing themselves as premier sources.
Rebellious Soul debuted at No. 1 and No. 2 on the Top R&B/Hip-Hop Albums chart and the Billboard 200 with first-week 72,000 units sold. It also launched atop the Top R&B Albums chart. K. Michelle would turn out two more consecutive No. 1 albums, including Anybody Wanna Buy a Heart?, her 2014 magnum opus, and 2016's More Issues Than Vogue. The former of the last two would be named the best-selling R&B album by a woman that year.
A year after releasing Rebellious Soul, K. Michelle collaborated with actor Idris Elba to create a 19-minute musical featuring select songs from the album. Elba and their secret romance inspired her sophomore album, released later that year.
After K. Michelle's initial success with "V.S.O.P.," her second single "Can't Raise a Man" has become a timeless classic. The track, originally recorded for her Zero Fucks Given mixtape offers instruction to women to cut ties with emotionally immature men who bring the worst out of them.
The streetwise anthem built a hot reputation for the Memphis native, rising from an unmastered original to her breakout single that netted her first and only certification from the Recording Industry Association of America (RIAA). It was certified gold for pushing over 500,000 equivalent units in August 2017.
During the 2013 Soul Train Awards, K. Michelle graced the stage twice that night. She wore a white long-sleeved jumpsuit embellished in silver sequin while performing a medley of songs from Rebellious Soul. Later, in a tone-down look, she accepted the esteemed award for Best New Artist. "A lot of people counted me out. This is a second chance for me. I have to say I'm so grateful," she proclaimed during her acceptance speech.
K. Michelle had stiff competition in the category, as she won over artists such as Kendrick Lamar and Tamar Braxton. The latter two artists had more successful singles, particularly on the charts. While K. Michelle wasn't a new artist, she defied the odds as an underdog to reclaim a dream that had been taken from her in an instant.
At the 45th NAACP Image Awards the following February, K. Michelle took the award for Outstanding New Artist.
Although K. Michelle has won few awards since then, she has succeeded elsewhere. Years after being an avid yet undesignated spokeswoman for Jack Daniels, with red solo cups of the brown alcohol drunk on many stages, K. Michelle teamed up with the whiskey brand in 2017 to craft her own signature cocktail beverage flavor, Southern Peach.
Summer 2022, K. Michelle topped R&B radio and the Adult R&B Airplay chart for the first time with her make-out jam "Scooch." The buzz single is lifted from I'm The Problem, her final R&B album, slated to arrive this fall. Two additional singles were released in 2023, including "You" and the Gloss Up-assisted "Wherever The D May Land."
While preparing for I'm The Problem, K. Michelle is expanding into country music with her first project in that genre. Her desire to be a part of the music community can be traced back to childhood inspirations like The Judds, as well as her album Rebellious Soul, which includes the song "Sometimes."
Something K. Michelle wrote in the liner notes for Rebellious Soul stands out just as much as the album's artwork. "Many have tried to get in the way of what I was put on this earth to do, which is sing," she wrote. "But, I truly believe you can't stop what God made hot. I'm very thankful to have a gift that nobody can take away from me, that has the ability to heal and the power to change lives."
Fans like myself are equally grateful that after five albums, K. Michelle's God-given gift remains untouched.
Stream K. Michelle's Rebellious Soul album below.